Do You Want In-Depth Fitness Sessions In the Gym? Here's Why You Need A Fitness Trainer
One of the latest trends in fitness exercising is hiring a personal trainer to walk you through the process of becoming physically fit. However, it's surprising that some people still decide to work alone. As a result, only a few achieve their fitness goals, while the rest continue struggling for years with no tangible results. Whether you are a gym enthusiast, jogger, runner or doer of other exercise techniques, you need to be serious and put effort.
Here is why you need a fitness trainer:
They Give You Encouragement While Exercising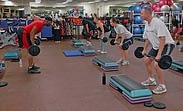 We all sometimes feel discouraged when we are not getting the results we want or achieving our fitness targets. When that happens, many people usually give up and eventually fail to meet their fitness goals. To avoid such situations that stop you from being the kind of person you want, you need someone to guide your steps and encourage you when things seem not to be working the way you want. With a professional fitness trainer, you are almost sure that you'll accomplish whatever you desire provided that you are ready to be led. Indeed, confidence and self-esteem boosters are people we need to be successful.
To teach you new things
Some machines and exercises are not easy to learn alone. You need someone to guide you and give you tips on learning new tactics that you are not used to or have not done in the past. Therefore, getting a personal instructor gives you an opportunity to explore a broad range of techniques and how to use different gym machines. With a solid knowledge of the various devices, new techniques and ideas from your trainer, perfecting your form will be a very easy task. Different tactics and workouts are okay for the different muscles but without someone to show you the way, the chances are that you'll only be working out a few areas leaving others. Therefore, get someone to guide you.
They will Always Act as Your Objective Eye
We all would like to work out distinct areas depending on our needs. The only person you can trust to tell you realistically what to expect is a personal trainer. What we think or plan sometimes might look easy but in the real sense, it's a tough journey that needs guidance. A fitness trainer is a right person that will help you optimize all your training sessions, so you make the most out of each of them. With a professional trainer, each session will be great and fruitful.
It's a fact that you can't watch yourself growing when it comes to fitness training. That's why you need a fitness trainer for amazing results in no time. Get a pro fitness trainer and things will be okay in all your training sessions.